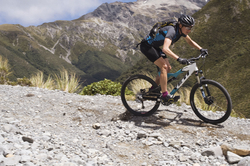 Announcing a great contest: the chance to win awesome Icebreaker merino wool cycling clothing, from their new 2011 range!
It's no secret that we adore Icebreaker's merino wool clothing. We wore it extensively during our world cycling trip, and found it incredibly comfortable and durable (see our recent review of Icebreaker socks).
Now, you can win Icebreaker gear from their new bike-specific range of clothing. Just leave a comment below to get a chance to test the new gear, and give us your impressions of it.
We're giving away Icebreaker tops, developed just for cyclists. There are 4 tops to win (2 for men and 2 for women) and 2 runners-up will win an Icebreaker sock package.
Trust us – this is a great prize! We tested out the tops during our bike tour through Denmark and – just like the rest of our Icebreaker gear – we love them.
The fitted style looks good. Reflective detailing helps with visibility in low light, and there are handy pockets for things like keys and wallets.
As with all Icebreaker gear, the clothing is exceptionally good at resisting odour, which means you can easily wear it several days in a row without washing.
Want to win? Here's what to do:
Leave a comment below. Tell us why you want to be a tester!
Earn bonus points: Follow @travellingtwo on Twitter, and Tweet about this contest with the URL http://bit.ly/winicebreakergear (tell us your Twitter name when you comment below, so we know you've done this)
Be willing to give feedback on the gear, and send a photo, after a month of testing
Good luck! The deadline for entries is 5pm (European time) on October 7th. We'll announce the winners on October 8th.